ah. Finally the weather is on my side. 80 degrees in riverside, CA today.
I wear my little short short and a dark purple top with a lacy detailed back.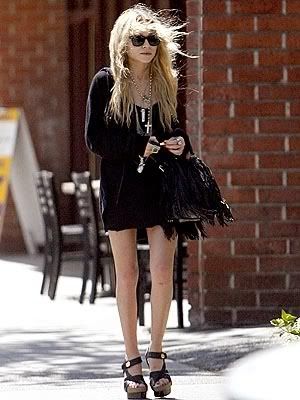 Sorta look like what I was wearing but with less accessories and I wore my bright yellow tote bag with dots on it that looks a lot like sperms so me and my friends named it THE SPERM BAG. we're so creative.
I also wore my wedges but my sister said it was too dressy for school because it looked like
I was going to go out for dinner or clubbing. I was already at school so I shrugged it off and went
with it anyways. I could see some of the girls staring at me like "Why is she wearing that?"
because it was raining last week and sorta chilling but they understood why
when they stepped out of class and it was 80degrees at 11 in the morning. HAH!
and they were wearing heavy winter jackets. teehee.
I always yahoo the weather before I plan out what I'm going to wear the next day.
Me and my friend were just talking about how in Riverside there's no spring.
And that it's winter then summer and maybe one day in the year where the weather
is no too cold or not too hot. Ahh. I think it was today.
I'm checking out another fashion blogs and I've got to say kudos to them
they are so stylish and bold. wow.
Right now, I'm totally in love with reading
Hot Chocolate and Mint
I just love her sense of style and optimistic view of everything. Go and check that out if
you got the time.
Anyways, I also went to the Mall with my friends just to chill and I wasn't going to buy anything
but ended up always buying something.
I bought a hat and a scarf. Hopefully I can get pictures of that when I do wear them.